Creating a personalized workout space at home is now easier than ever with a selection of fitness essentials that double as fantastic gifts for anyone looking to set up their home gym. Fitness posters serve as informative guides, offering visual demonstrations of various exercises, providing both inspiration and guidance. Dumbbells, kettlebells, and medicine balls add versatility, enabling a wide range of strength and resistance training exercises. These items are not only space-efficient but also serve as foundational tools for building muscle and improving overall fitness.
For those seeking an intense cardiovascular workout, battle ropes and jump ropes are ideal additions. They elevate heart rate, burn calories, and build endurance. Exercise bands offer adjustable resistance, making them suitable for different fitness levels and providing a compact alternative to bulky gym machines.
To enhance core strength and stability, an ab roller is an excellent choice, targeting abdominal muscles effectively. Meanwhile, foam rollers aid in post-workout recovery, soothing sore muscles and reducing tension. A balance board adds an element of challenge, improving stability and coordination while diversifying workout routines.
Completing the home gym setup, interlocking foam flooring ensures a safe and cushioned surface for various exercises.
Each of these items contributes uniquely to a comprehensive home gym, catering to diverse fitness goals and preferences. Whether the recipient is a fitness enthusiast, a beginner looking to kickstart their fitness journey, or someone seeking convenience and flexibility in their workout routine, these gifts are sure to be appreciated for their functionality, versatility, and contribution to creating a motivating and efficient home workout space.
Crafting the Ultimate Home Gym: Essential Tools for Personalized Fitness Success
This post includes affiliate links.

11 Pack - Exercise Poster Set
Transform your workout space with this comprehensive 11 Pack Exercise Poster Set. Each 18" x 24" poster is a visual guide to mastering various fitness disciplines, including Dumbbell, Suspension, Kettlebell, Resistance Bands, Stretching, Bodyweight, Barbell, Yoga, Exercise Ball, Muscular System, and Medicine Ball exercises. Crafted in the USA with high-quality 3 MIL lamination, these posters offer added durability and are tear-resistant, ensuring longevity. Elevate your fitness routine with this all-inclusive set, perfect for enthusiasts of all levels aiming for a well-rounded exercise regimen.
150 lb Dumbbell Set with Rack
Resistance training with dumbbells can boost metabolism, aid in fat loss, and improve bone density. Whether you're a beginner or a seasoned fitness enthusiast, the simplicity and effectiveness of dumbbell workouts make them a valuable asset in achieving your fitness goals.

Balance Board
Balance board workouts are a training method involving a series of standing and weight-bearing exercises completed on an unstable surface. They aim to train the muscles around the ankle and improve balance. Common in rehabilitation settings and conditioning programs for athletes, balance boards can also target upper body stability and core strength.
Resistance Bands Set
A set of three types of resistance bands makes it an ideal choice for those who want to incorporate a variety of exercises in their workout routine. Each resistance tube can be used to perform a different set of exercises to complete an effective workout routine.

Pro-Tec Total Body Resistance Bands
These high-quality resistance bands offer versatile workouts with three different resistance levels (10lb, 25lb, and 40lb) for all fitness levels. Maintain your range of motion and flexibility while building strength, thanks to comfortable handles and included accessories like a door anchor, ankle strap, and exercise guide.

6.6 lb. No Bounce Medicine Slam Ball
The 3kg (6.6 lbs) medicine ball has a textured grip surface for extra comfort leading to a more focused workout experience making it easy to incorporate in resistance training. The versatile nature of a medicine ball allows for a wide range of exercises and movements, making it an excellent tool for targeting specific muscle groups, improving balance, and enhancing overall athletic performance.

4kg Kettlebell
Kettlebells are one of the most effective pieces of equipment to use during a strength training session. Offering users a full body workout, they utilize different muscle groups through their ability to be flung, lifted and pushed. Workouts incorporating kettlebells have shown to help reduce body fat, increase lean muscle mass and burn calories more efficiently, strength training in general helps to increase bone density, reduce resting blood pressure and improve balance and coordination.

Jump Rope
Get serious about your cardio training with JupiterGear's weighted jump rope that is adjustable and built for speed. With a premium-grade cable and a length that can be custom-sized, you are ready for your workout whether it's outside, at home, in the gym, or on the go. Great for double unders, crisscrosses, high knees, and all ranges of jumping that will not twist or tangle as you move.

Battle Rope
Get ready to power up your workouts with this Battle Rope – your ultimate fitness ally! Crafted from top-notch 100% poly dacron material and decked out with protective nylon sleeves, this rope is a tough cookie, built to withstand your most intense sessions without a sweat. But that's not all – there's an anchor and strap, making installation a breeze and ensuring your rope stays in top-notch shape for the long haul. With a diameter of 1.5 inches, 30 feet in length, and 16 pounds in weight, this battle rope means serious business, catering to intermediate and higher-level users looking to level up their training game. And guess what? Your comfort is covered too, thanks to those 10-inch extra-long handles made from heat shrink material. Say goodbye to slippery grips and hello to a firm, non-slip hold as you conquer those intense exercises. It's time to unleash your full potential with the Yes4All Battle Rope – get ready to conquer your fitness goals in style!

Ab Roller with Mat
Sculpt your abs effortlessly with our portable, collapsible ab roller! Its ingenious design allows for convenient transportation, enabling you to work out anytime, anywhere. The added foam mat guarantees a luxurious and supportive surface for your exercise routines, ensuring a comfortable and effective session every time you roll. By incorporating this essential fitness accessory into your regimen, not only do you fortify your core muscles but also experience an overall enhancement in your fitness levels. Embrace the benefits of this versatile ab roller to attain a stronger core, improved stability, and heightened overall fitness for a healthier lifestyle.

Confidence Over Comparison - Power Long Band
Designed for full-body strengthening, stretching, mobility, stabilization, and increase muscle activation. Made with high-quality fabric elastic that doesn't snap, pinch, or roll. Their logo is designed as an affirmation to empower you on your fitness journey.

Iron Klad Non Slip Hip Bands
Elevate your lower body workout routine with our set of 2 Iron Klad fabric hip bands, expertly designed to enhance targeting of your hip and glute muscles. Crafted for durability and stability, these non-slip bands offer unparalleled effectiveness in strengthening and toning your lower body. Whether you're engaging in warm-ups or powering through intensive workouts, these bands provide multifaceted benefits. By incorporating hip bands into your exercise regimen, you'll experience amplified activation of key muscle groups, fostering greater strength, improved stability, and enhanced flexibility. Discover the multitude of ways these bands can transform your workouts, allowing you to unlock new levels of lower body fitness and achieve your desired results more efficiently.

Mini Foam Roller
Unique design with dimpled surface for deeper massage to relieve muscular pain and tightness similar to the thumbs of a massage therapist. Stretches muscles and other soft tissues in multiple directions, breaking down "knots" to help increase your flexibility and help relieve back pain. Compact enough to travel with.

High-Density Round Foam Roller
Experience post-exercise relief with this High-Density Black Foam Roller. Specially designed to aid in balance, strength, flexibility, and rehabilitation exercises, this roller is a versatile tool for your fitness journey. Crafted with firm, durable polypropylene, it maintains its shape and features molded edges for enhanced comfort during use. Its lightweight design ensures easy portability to classes and allows effortless repositioning during workouts. Measuring at 12 x 6 x 6 inches (LxWxH), this roller is compact yet effective. Its easy-to-clean surface ensures hassle-free maintenance, offering a convenient way to unwind and soothe muscles after your workout routine.

Deep Tissue Roller Stick
Experience instant relief from minor muscular aches with the Maji Sports Deep Tissue Roller Stick. This powerful tool is your ticket to targeted muscle relaxation and soothing comfort. Achieving the best results is simple – just roll the massage stick evenly along the targeted muscle while applying gentle downward pressure. With a little practice, you'll effortlessly master the art of maximizing pressure to deliver a massage-like experience that will leave you feeling rejuvenated.
No Slip Yoga & Exercise Mat
Ideal for both home and studio environments, this lightweight mat offers supreme cushioning, facilitating optimal alignment and posture maintenance during every pose. Experience enhanced stability for your hands and feet courtesy of its light-tack non-slip texture, ensuring a confident and secure yoga practice with greater comfort and balance.

Interlocking Foam Floor Tiles
Transform any space into a dynamic workout haven or a safe haven for play with our Protective Exercise Flooring. Crafted with durable, non-skid textured squares and tiles, this flooring solution not only shields your floors or carpets but also creates a comfortable environment for exercise accessories or a vibrant play area for children. Effortless assembly is guaranteed with lightweight interlocking foam tiles that connect seamlessly, offering quick disassembly for convenient storage. Versatility reigns supreme as this water-resistant, noise-reducing design serves multiple purposes, ideal for indoor use in garages, gyms, home fitness rooms, or as a cushioned playmat for kids. Covering 24 square feet, each tile measures 24 inches by 24 inches and stands at ½ inch thickness from the highest point of the texture, including six tiles with end borders for a polished finish. Cleaning is a breeze – simply apply warm water and dish soap for maintenance. Crafted from high-quality, high-density EVA foam, this mat provides exceptional support and cushioning while being free from toxic phthalates, presenting an excellent eco-friendly alternative to rubber gym mats.

Bodyweight Exercise Cards
This set of 53 Acupoint workout cards contains simple and effective exercises so you can maintain your fitness at home. Easily tone and strengthen your core, legs, glutes, biceps, triceps and abs. The exercise cards contain a variety of different bodyweight and toning exercises to suit all levels. Effortlessly customize your workouts to suit you and go at your own pace. If you prefer to exercise at home, this card set is the perfect, hassle-free solution to effective home workouts.

Habit Nest Bodyweight Home Workout Journal
The Bodyweight Home Workout Journal is meant to help you sculpt your body without a single piece of equipment. It creatively teaches you how to use your own bodyweight with simple items like t-shirts, towels, and doorways to get an amazing workout every day.
Gym Skin Gym Gloves
Protects against blistering and bruising common when working hard. Absorbs the pressure from lifting weights, sporting equipment and exercise activities. Provides a strong protective layer of armor covering the entire palm and in between the thumb and forefinger. Ultra-thin protective layer designed to be worn without gloves or inside gloves for the maximum amount of protection and comfort.
Workout Hair Don't Care Hat
This Katydid "Workout Hair Don't Care" women's trucker hat is for stylish individuals like you! This classic and cute hat will fit in with any wardrobe, and you can wear it before, during or after your working out.

Kind Bars
Discover the deliciously wholesome world of KIND Bars – where taste meets nutrition seamlessly. Made with real, recognizable ingredients, each KIND Bar is a delightful blend of nuts, fruits, and whole grains, offering a satisfying snack without sacrificing flavor. Packed with nutrients and free from artificial flavors, preservatives, and genetically engineered ingredients, KIND Bars are the perfect on-the-go companion for those seeking a tasty and nourishing snack that keeps you fueled and feeling good.
Take 15% off single purchases and first subscription orders with code KIND2023.

Dream. Plan. Do. Journal
Unleash your dreams with this hand-lettered Dream Plan Do, Grey and Rose Gold Fabric Journal! Elevate your goal-setting experience with this chic and stylish notebook that beckons creativity and ambition. Perfect for jotting down motivational notes, capturing inspirational quotes, mapping out workout goals, or simply organizing your brilliant ideas. Gift this elegant 8.1 x 5.6 x 0.6 journal and inspire someone to turn their dreams into reality!

Crush Your Goals Inspiring Quote Cards Deck
These shareable, giftable, and postable motivational cards cheer you on with wit, heart, and zero cheese. Keep for yourself or spread the spirit! Contains 40 inspiring quotes from diverse artists, writers, and thinkers. Pin up cards for instant desk décor or share them with friends as a unique gift that'll brighten their day.
Ekho Wireless Ear Buds
Say goodbye to tangled wires and hello to hassle-free listening with these wireless earbuds.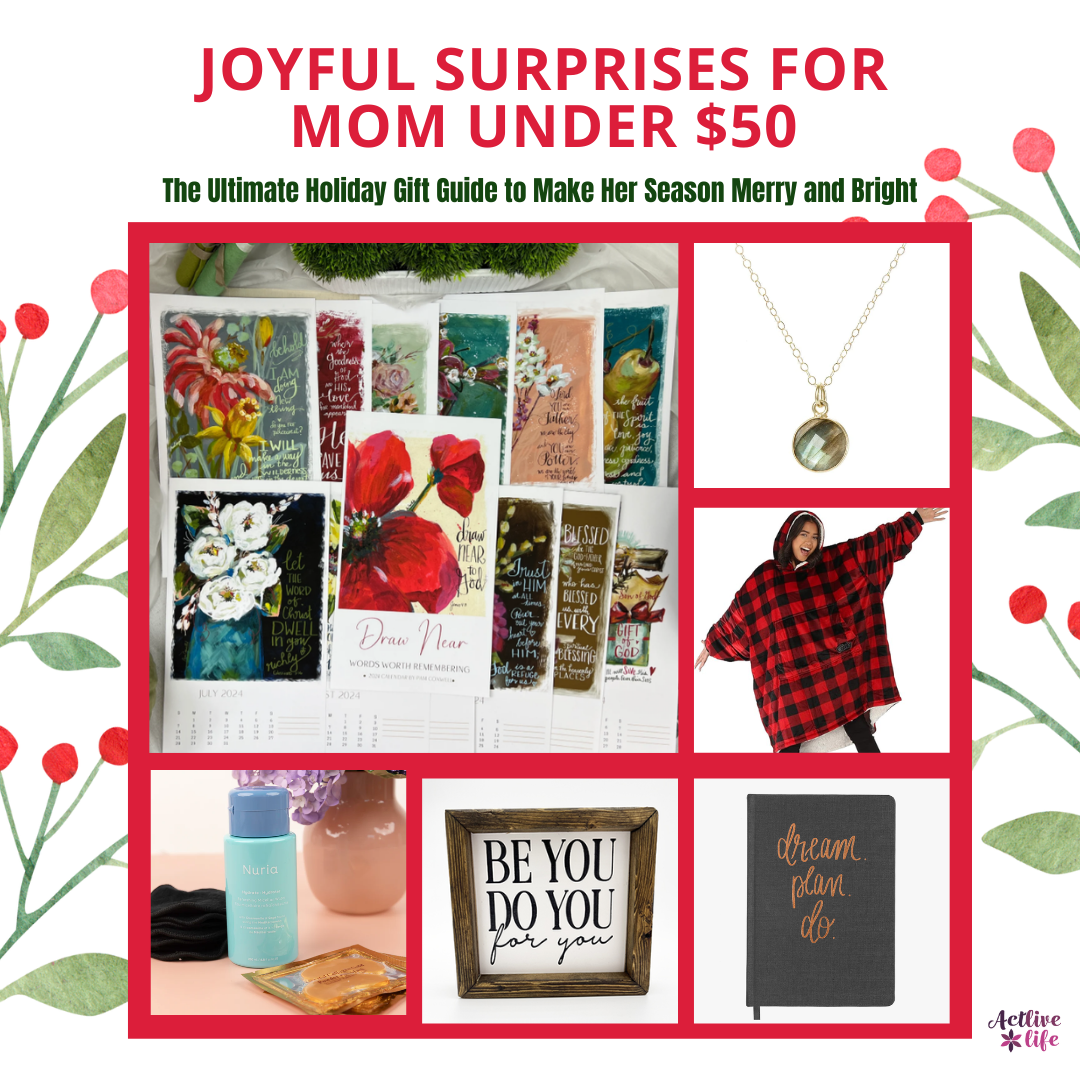 Click here to check out our Joyful Surprises for Mom Gift Guide with gifts under $50.